Calculating war casualties can be a complex, sometimes controversial subject. However, it is widely accepted that about 10 million military personnel and about 7 million civilians died in World War 1, with some 23 million wounded. The Entente Powers (also known as the Allies) lost about 6 million soldiers, while the Central Powers lost about 4 million. At least 2 million died from diseases and 6 million went missing, presumed dead. About two-thirds of military deaths in World War I were in battle. This was unlike any previous conflict during the 19th century, when the majority of deaths were due to disease. Improvements in medicine, as well as the increased lethality of military weaponry, were both factors in this development. Nevertheless disease, including the 'Spanish flu', still caused about one third of total military deaths for all belligerents. 
Britain and Commonwealth forces lost nearly 900,000 military personnel and 1.7 million men were wounded. Britain also lost 16,829 civilian dead, 1,260 civilians were killed in air and naval attacks, 908 civilians were killed at sea and there were 14,661 merchant marine deaths. Another 62,000 Belgian, 107,000 British and 300,000 French civilians died due to war-related causes.
British Losses
It is estimated some 1.7 per cent of the total UK population at the time died in the First World War. In Britain that was about 10% of the male population killed, and 70% of these men were aged between 20-24 years old. Of the 700,000 British war dead, no fewer than 71% were between the ages of 16 and 29 years. The Commonwealth War Records reveal that 14,108 British soldiers died aged 18 years or younger. Research shows the level of loss was significantly higher in some areas than it was in others. Durham for example, tragically lost nearly eight per cent of its population during the First World War, with Derby (5.64%) and Dumfries (4.79%) also badly affected. 
Throughout the United Kingdom, one in six families suffered a direct bereavement, 192,000 wives had lost their husbands, and nearly 400,000 children had lost their fathers. A further 500,000 children had lost one of more of their siblings. Appallingly, one in eight wives died within a year of receiving news of their husband's death. There were also 1.7 million British wounded of which 80,000 were gas victims, 30,000 were made deaf, 80,000 had 'shell shock',  and there were 250,000 amputees. The wounded increased over time. At the end of 1928, nearly 2.8 million war veterans received a disability pension of some sort.  While it was the big cities that lost the highest numbers of men, it was the smaller northern England and Scottish towns that saw entire generations decimated.
Britain's big cities lost most men, Glasgow, 13,740;  Manchester, 3,481;  Liverpool, 10,470;  Birmingham, 9,842;  Hull,  7,500 +,  Derby, 6,952;  Edinburgh, 5,281;  Durham,  6,353;  Leeds,  4,312;  Sheffield, 4,854; and London, 41,833. But it was the Northern and Scottish towns that saw their populations hardest hit. In Durham 6,300 men lost their lives. This was equivalent to almost two in ten men in the city and nearly eight per cent of the total population. Another Country Durham town, Bishop Auckland, was also hit hard losing more than six per cent of just 13,600 people, all of them men between 18 and 50-years-old. Derby lost almost six per cent of its population and Dumfries, Scotland, five per cent, according to genealogy company Ancestry. Nine of the 10 towns and cities that lost the highest proportion of their population are in Northern England and Scotland.
Scotland
Scotland which traditionally provided recruits for the British army's elite regiment's, officially lost 134,712 men during WW1, about 3.1% of the population. (Recent research suggest this figure was nearer 148,000 men, when Scottish nurses, 500 munition workers, Merchant Navy and may others are included.) This was over 25% of those that volunteered and more than twice the national average rate of fatalities for the whole of Britain. Only the Serbs and Turks had a higher proportion of participant deaths than Scotland.
Large Scottish towns. like Dumfries and Perth suffered, but lowly populated places, such as the Isle of Lewis and Harris, sustained some of the highest proportional losses of any place in Britain. At Festubert, on 17 May, 1915, where there were 16,000 British causalities, Historians believe more Highlanders were killed than at Culloden. Similarly, 36 of the 72 attacking Battalions at the battle of Loos in September 1915 were Scottish. Some 30,000 Scots, fought at the Battle. Of the 21,000 killed, over 7,000 were Scottish soldiers. At  Arras between April 9 and May 15. 1917, it is estimated that another 18,000 Scots were killed. Almost every town and village in Scotland was affected by these losses.
Ireland
In Ireland, the First World War was a complex and painful episode in Irish History. While conscription was never imposed on Ireland, some 206,000 men from Ireland fought in the war, in many theatres. About 30,000 died serving in Irish regiments of the British forces, about 2,5% of the the male population of Ireland at the time. In all about 49,400 Irishmen died during WW1, fighting, for other British Regiments and other countries, such as Canada, Australia and the United States.
Cities, such as Dublin lost 4,973 men or 3.69% of the male population. Counties such as Antrim, (which is home to most of Belfast), lost 5,122 men (3.37%), Cork, 2,226 men (2.01%), Down, 2,056 men, (3.98%), Londonderry, 1,343 men, (3.81%) and Armagh 1,128 men (3.74%). (https://www.theirishstory.com/2015/03/25/reconsidering-irish-fatalities-in-the-first-world-war/#.Xuyk0GhKiUk)
Wales
In Wales, between 20,000-40,000 Welshmen, died on active service in the Great War. Among the 6,000 Cardiffians killed, commemorated on over 100 memorials in Cardiff, are the 121 men of the Whitchurch Parish, including the Welsh Rugby winger, Captain, Johnny Lewis Williams, killed at Mametz Wood in July 1916. Modern research suggests another 94 men could have been added to the Whitchurch memorial, but were excluded for various reasons. The attack by the 38th Welsh Division, on Mametz Wood, between 7th-10th July 1916, saw some 4,000, Welsh casualties. As a major coal producer, the war had a profound impact upon Wales, destroying many estates of the landed gentry. There was also a huge migration of women away from Wales and a rapid decline in organised Welsh religion.
http://war-memorials.swan.ac.uk/?page_id=4
Almost every UK Town affected by WW1.
In an October 2013 update, researchers identified only 53 civil parishes in England and Wales from which all serving personnel returned from WW1. These became known as "Thankful Villages". There are no "Thankful Villages" identified in Scotland or Ireland, yet all of Ireland was then part of the United Kingdom at the time.
According to the research by the genealogy company Ancestry, the 10 UK towns that lost the highest percentages of their populations in the First World War are shown below: –
Although the great majority of casualties in WW1 were from the working class, the social and political elite were hit disproportionately hard by WW1. The sons of the "middle Class", provided the junior officers that were expected to lead from the front. 17% of officers were killed in WW1, compared to 12% of the British army's ordinary soldiers  The British Aristocracy was devastated by the war, with 47 Peers killed and six of these, leaving no brothers to succeed them. By 1915, 9 House of Lord Peers and 95 sons of Peers had been killed in the war and it was to get worse. Some 35,000 former public school boys died in the war, about a fifth of all those who served. Eton School, alone lost more than 1,157 former pupils – 20% of those who served. Other schools, such Manchester Grammar lost 521 former pupils, and King Edward's in Birmingham, lost 247, from the 1,400 'boys' that served, including 52 in the Battle of the Somme, in 1916. In all, 22 Members of Parliament and 24 Peers from the House of Lords, died in WW1. The UK wartime Prime Minister Herbert Asquith lost a son, while future Prime Minister Andrew Bonar Law lost two. Anthony Eden lost two brothers, another brother of his was terribly wounded, and an uncle was captured.
France
In France, where much of the war raged, approximately 11% of the entire population, was killed or wounded during the war.
Almost 1.4 million Frenchmen died in the service of their country and another 4.2 million men were wounded – a casualty rate of 74% of all those mobilized in the French Empire. They left behind 600,000 widows, 986,000 orphans, and 1.1 million war invalids. Over ten percent of the male population of France had been wiped out, a figure that rises to 20% for the 'under 50' age group. Of the 470,000 males born in France in 1890, and who were 28 years old when the war ended, half were killed or seriously wounded. Some 7.5 million acres of French land had been destroyed by explosives and chemical warfare. The Western Front along 250 miles and 25-30 miles wide had been reduced to a wasteland. 1,659 towns and communes had been blotted out, 2,363 others were wrecked, and 630,000 houses were destroyed or seriously damaged. So many mines were ruined, that the output of coal was reduced by a half, 21,000 factories were gutted, and the great manufacturing centres at Lille, and the Longwy district, were systematically despoiled of machinery vital to their prosperity. Deaths of civilians by artillery in the battle zone, or in the back areas by aircraft were frequent. Deaths still continue today, due to unexploded munitions in the Western front area. 
German Losses
In Germany, approximately 13 million Germans served in the military during the Great War;  over 2 million or 15 percent of these, were killed.  This was a demographic catastrophe for German society. Some 13 percent of German men born between 1880 and 1899 (prime candidates for service in the war), were killed between 1914 and 1918. For German women in the doomed cohorts born between 1880 and 1899, war losses meant transformed lives. For many young German women in the 1920's, marriage and family were not possibilities; there were no young men available. While this produced a kind of autonomy for the women affected, for those who had hoped for marriage and family, wartime deaths meant a lifetime alone.
After the war, the German Government reported that approximately 763,000 German civilians died during the war because of the Allied Blockade  and another 150,000 died of the war-related Spanish Influenza. Total German losses, then, military and civilian, during the Great War, thus approach 3 million. The sudden and violent death of some 2 million young men confronted Germans with that peculiar 20th century phenomenon, of mass death. The apocalyptic German experience of 1914-1918, coupled with defeat, revolution, and then civil war, engendered what Theodor Adorno (1903-1969) called "absolute despair" and that obsession with messianism, apocalypse and redemption became characteristic of Weimar Germany's culture and politics. Jason Crouthamel has explored the psychiatric dimension of this enormous trauma.
For Germans, during and after the war, simply finding the bodies of the dead, and burying them properly was a vast problem. The Volksbund Deutsche Kriegsgraberfursorge (VDK), the German equivalent of the CWGC, was not instituted until 1919, so during the war there was no standardisation of head-stones or Friedhof (cemetery) construction with the result that German memorials represent a variety of styles and levels of skill. After the war, all German burials were consolidated into the sombre cemeteries which reflected the nation's attitude to death and which often featured especially commissioned sculptures. There remain some striking  German memorials and sculptures on the Western Front, which were created both for specific units and individuals. Many lie in remote and isolated locations. Sadly many of these memorials show signs of vandalism and even traces of recent damage by hunting rifles as witnessed by the memorial in Azannes. The VDK still relies on charitable donations to maintain them.  Most of the German dead were either buried in mass or unmarked graves, or their graves were, after the war, in the hands of Germany's former enemies. At home, Germany erected innumerable local monuments in honor of their war dead, but creating a national day of mourning, with appropriate national rituals and symbols proved impossible in the politically torn Weimar Republic, and that would have devastating consequences for the legitimacy of the Weimar Republic and for German political culture.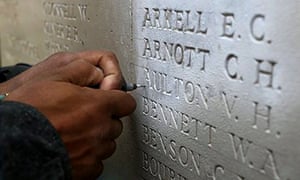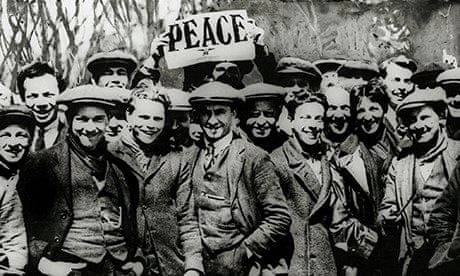 15 Legacies of WW1 – https://www.theguardian.com/world/2014/jan/15/firstworldwar
Durham and Bishop Auckland suffered some of most losses in First World War, new research reveals